Feb. 10-11: Social Justice Schools Conference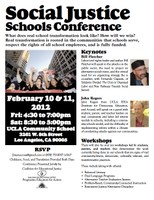 UPDATE: View John Rogers PowerPoint presentation
The Coalition for Educational Justice (CEJ) will hold a two-day conference Friday and Saturday to discuss school transformation and reform rooted in social justice.
IDEA Director John Rogers will speak during Saturday morning panel about educational justice in an era of new capitalism.
Also speaking will be Bill Fletcher, labor leader and civil rights activist. Fletcher will discuss the attacks on public sector and the need for organizing strategy.
The conference will also hold more than 10 workshops led by students, parents and teachers on current work that embodies community-driven, democratic, culturally relevant and transformative practices.
Topics include:
Balanced Literacy
Dual Language Programs
Alternative Teacher Evaluation Systems
Problem-based, community-connected instruction
Restorative justice/alternative discipline
Social Justice Schools Conference
WHEN: Friday, Feb. 10 - Saturday, Feb. 11
TIME Friday from 4:30 p.m. to 7 p.m.
Saturday from 8:30 a.m. to 5 p.m.
LOCATION: UCLA Community School, 3201 W. 8th St., Los Angeles, CA 90005
RSVP to jimenez.rosa@gmail.com or 909-753-9007
*Childcare, food and translation services provided both days
Document Actions