NEW REPORT: Los Angeles' road to A-G for all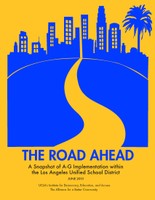 UCLA, in collaboration with Alliance for a Better Community, released a report this summer on the status of Los Angeles Unified School District's new graduation policy.

The Road Ahead: A Snapshot of A-G implementation within the Los Angeles Unified School District provides information on the district's progress toward graduating its students with successful completion of the A-G requirement. A-G is the college-preparatory curriculum that is required for admission into a California State University or University of California campus. Students must pass a minimum of 15 yearlong (or 30 semester) courses.

Eight years ago, the LAUSD Board of Education passed a resolution that would require its students beginning with the Class of 2016 to successfully complete A-G for graduation.

The Road Ahead is timely because the Class of 2016 just completed its freshman year. This report uses 2010-11 data to gauge where the district is and what new policies and practices must be implemented in order for the district to address the gap between the proportion of students who graduate and those who finish high school having successfully completed the A-G sequence.
Document Actions