School and Society in the Age of Trump
Authors: John Rogers with the School and Society in the Age of Trump research team: Michael Ishimoto, Alexander Kwako, Anthony Berryman, Claudia Diera
March 13, 2019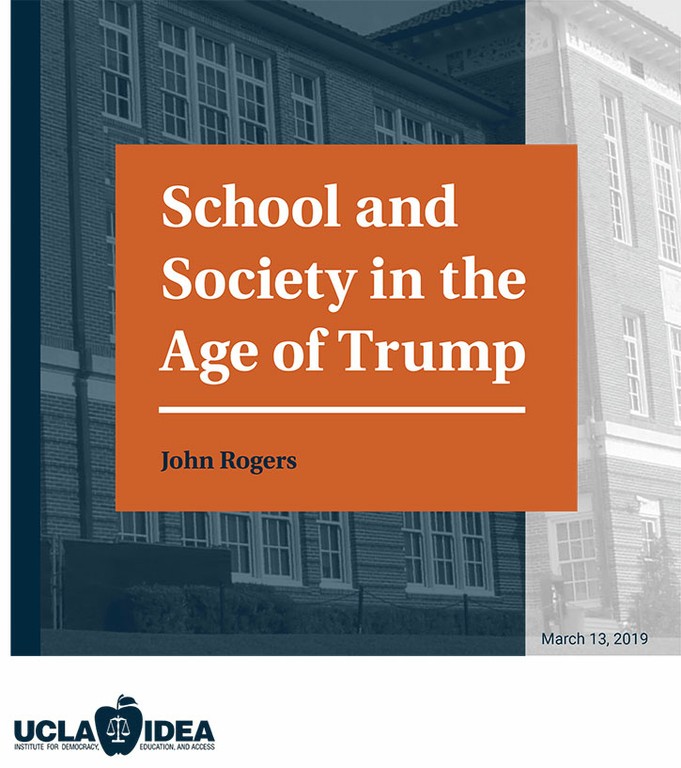 This study examines how a broad set of social issues at the forefront of the Trump presidency are felt and affect students and educators within America's high schools. We look closely at:
Political division and hostility;
Disputes over truth, facts, and the reliability of sources;
Opioid misuse and addiction;
The threat of immigration enforcement;
The threats of gun violence on school campuses.
In addition to assessing the impact of these challenges on students' learning and wellbeing, we also report on how high school principals throughout the U.S. are addressing these issues. Further, we measure how the impact and responses differ across schools depending on student demographics, geographic location, or partisan orientation of the surrounding community.
The study findings are based on an online survey conducted in the summer of 2018 by UCLA's Institute for Democracy Education and Access (IDEA) of 505 high school principals whose schools provide a representative sample of all U.S. public high schools. UCLA IDEA also conducted 40 follow-up interviews with principals who participated in the survey selected to be representative of the larger pool of schools.
Our findings make clear that in the age of Trump, America's high schools are greatly impacted by rising political incivility and division.
Eighty-nine percent of principals report that incivility and contentiousness in the broader political environment has considerably affected their school community.
Eighty-three percent of schools see these tensions intensified and accelerated by the flow of untrustworthy or disputed information and the increasing use of social media that is fueling and furthering division among students and between schools and the communities.
Sixty-two percent of schools have been harmed by opioid abuse.
Sixty-eight percent of the principals surveyed say federal immigration enforcement policies and the political rhetoric around the issue have negatively impacted students and their families.
Ninety-two percent of principals say their school has faced problems related to the threat of gun violence
In the face of these societal challenges, it is students themselves who bear the brunt of the impact. Many students feel greater anxiety, stress, and vulnerability, and parental opioid misuse and aggressive immigration enforcement have both resulted in greater material deprivation for young people—unstable housing, insecure food supplies, and a lack of other necessary supports.
School principals are also impacted. The average principal in the study reports spending six and a half hours a week addressing the five societal challenges. One in four principals spend the equivalent of one workday a week responding to the challenges. That time represents lost opportunity costs, taking time away from efforts to meet students' academic needs and enhance the quality of teaching and learning.
The report closes with a call for relationship-centered schools that attend to the holistic needs of young people and their families, while building social trust and understanding. We recommend:
Establish and communicate school climate standards emphasizing care, connectedness, and civility and then create practices that enable educational systems to document and report on conditions associated with these standards.
Build professional capacity within educational systems to address the holistic needs of students and communities and extend this capacity by supporting connections between school-based educators and other governmental agencies and community-based organizations serving young people and their families
Develop integrated systems of health, mental health, and social welfare support for students and their families.
Create and support networks of educators committed to fostering care, connectedness, and strong civility in their public education systems.
---
School and Society in the Age of Trump
by John Rogers and the School and Society in the Age of Trump Research Team is licensed under a
Creative Commons Attribution 4.0 International License
.
Document Actions