Council of Youth Research expanding reach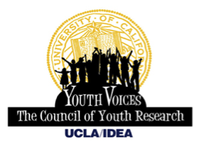 UCLA IDEA's Council of Youth Research has been busy the last few months. After a successful summer seminar when students from five Los Angeles urban high schools researched school conditions, the Council has spent the past few months expanding on that research.
Students from Crenshaw, Locke, Manual Arts, Roosevelt and Wilson high schools have continued to investigate the conditions at their schools and in their communities, using Williams v. California as a template. Williams was a class-action lawsuit settled in 2004 that guaranteed every student in California an adequate education.
In the next few months, the Council of Youth Research will present their yearly findings at the UCLA Labor Center. They will also travel to New Orleans for the annual American Educational Research Association conference, which brings together thousands of researchers to share their work.
To keep up with the latest, follow @youthcouncil_LA on Twitter and read the students' blog Young Critical Minds.
Document Actions