The Road Ahead
A Snapshot of A-G Implementation within the Los Angeles Unified School District
Marisa Saunders, Bryan C. Ventura, Leslie Flores-Valmonte
June 2013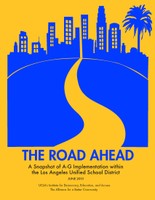 The Road Ahead: A Snapshot of A-G implementation within the Los Angeles Unified School District, a new report by UCLA IDEA and the Alliance for A Better Community, and funded by the United Way of Greater Los Angeles, provides information on LAUSD's progress toward graduating its students with successful completion of the A-G requirement.
Eight years ago, the LAUSD Board of Education passed a resolution that would require its students beginning with the Class of 2016 to successfully complete a college preparatory curriculum (A-G) in order to graduate.
This report uses 2010-11 data to gauge where the district is and what new policies and practices must be implemented in order for the district to address the gap between the proportion of students who graduate and those who finish high school having successfully completed the A-G sequence.
A-G is a series of college-preparatory courses that California high school students must take to be eligible for admission into either the California State University or University of California systems. Each subject area is associated with one of the letters. Students are required to pass a minimum of 15 yearlong (or 30 semester) courses to be eligible.
Download:
Document Actions