Gender Gaps
By UCLA IDEA
Themes in the News for the week of Nov. 8-12, 2010
Download PDF version of charts and data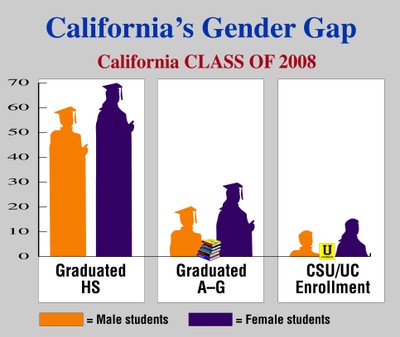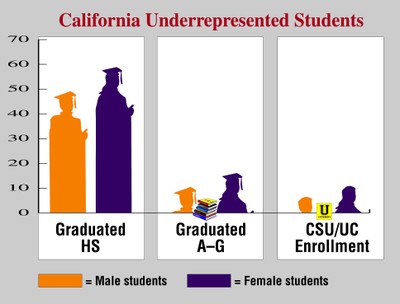 A report released this week brings new, but not surprising data to a grim condition of American education and society. Using national assessment data, the Council of Great City Schools reported that 12 percent of African-American male fourth-graders tested proficient in reading, whereas 38 percent of white fourth-graders did.
African-American boys drop out twice as much as white students; their SAT scores lag and they represent 5 percent of college students (New York Times, NPR).
"At almost every juncture, the odds are stacked against these young men in ways that result in too much unfulfilled potential and too many fractured lives," said Michael Casserly, council's executive director. "It's not just an education issue, it is not just an urban issue. It is a broader national issue that is going to require sustained and coordinated effort on the part of a lot of people…" (Education Week)
In California, college representation lags for African Americans, Latinos, and American Indians as compared to whites and Asians. Further discrepancies exist within these underrepresented groups, with girls doing significantly better than boys.
California State University and University of California campuses had, in fall 2008, fewer men than women as entering freshmen. An important contributing reason for the imbalance can be traced to the high school experiences of these students.
Although roughly the same number boys and girls enrolled as 9th graders, more girls than boys remained in the educational pipeline. Thirteen percent more females than males graduated from high school in June 2008. Forty percent more females graduated high school college-ready (successfully completing A-G coursework required for admission to California's four-year public universities). And 45 percent more females enrolled as college freshmen in the California State University and University of California system (Top Chart).
While we see a gender gap for all racial groups in California, gender disparities are particularly pronounced for Latino, African-American and American Indian students—groups that are underrepresented in California's higher education system. Underrepresented females were 20 percent more likely to graduate and 70 percent more likely to graduate college-ready than their male peers. They were 83 percent more likely than their male peers to enroll as first time freshmen at California State University or University of California campuses in fall 2008 (Bottom Chart).
Researchers suggest contributing causes for the gender gap among underrepresented students. Latino, African-American and American Indian males get caught up more with disciplinary actions and suspensions than do females. Also, classroom dynamics and student/teacher relationships work particularly poorly for young men of color.
As if to confirm Casserly's call for sustained efforts, some hopeful news came earlier this month from Baltimore City Public Schools, which has spent three years revamping suspension policies and intervention efforts while providing more individualized attention to students. The results for the 82,000-student district are marked improvements in graduation and dropout rates.
"Typically, that's the hardest group to move. Oftentimes, when we see average graduation rates going up, it masks little or no improvement in African-American males," said Robert Balfanz, co-director of a Johns Hopkins University center. "In this case, the fact African-American males are leading the improvement is notable."
In the 2006-07 school year, the graduation rate for Baltimore's African-American males was 51 percent. This year, it jumped to 57.3 percent. Overall, the district's graduation rate increased from 60 percent to 66 percent in three years.
Among the strategies incorporated in Baltimore was going door-to-door to bring students back to school and working harder to keep them engaged once they return. Similar strategies could work well in California, but they require more and better-trained school staff and smaller classes. As budget cuts mount, it appears that California may be moving in the opposite direction.
Chart Source: UCLA IDEA
Document Actions