Report On The Status Of Public School Education In California 2004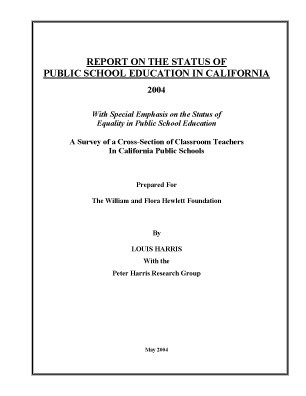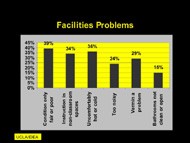 Download Report on the Status of Public School Education in California 2004 PDF (704 KB, 88 Pages)
Download Professor Jeannie Oakes' PowerPoint Presentation a sa PDF (5.8 MB, 39 Pages)

Deeply concerned about both the quality of California public schools and persisting questions of fairness and equality of opportunity for some groups of children, but nevertheless hopeful about efforts underway to remedy these problems, the William and Flora Hewlett Foundation commissioned Louis Harris to conduct a survey of a cross-section of California's public school teachers on the status of classroom conditions essential to learning.

Between February 12 and March 7, 2004, the Peter Harris Research Group on behalf of Louis Harris conducted a total of 1056 telephone interviews with teachers in California. The margin of error for a survey of 1056 teachers is approximately ±3 percentage points. This follows a similar survey conducted in 2002 by Louis Harris for the Rockefeller Foundation that measured gaps in the basic conditions for learning in schools with high numbers of at-risk students compared to the majority of schools with relatively low numbers of at-risk students. In addition to updating the information from 2002, the 2004 survey asked teachers about a proposal developed by researchers and being considered in Sacramento. Both surveys used a new set of measures that document basic conditions for learning using teachers as de facto reporters. These surveys document the observations of more than 1000 witnesses to California education, as it is actually taking place in the classroom.
Document Actions