Sharing The Burden? JROTC Enrollment In Los Angeles County Schools
High schools serving large numbers of low-income students of color and English Learners are far more likely to offer JROTC (Junior Reserve Officer Training Corps) classes than other Los Angeles County High Schools.

63 of the 195 High Schools in Los Angeles County offer classes in "Military Science" - better known as JROTC. These JROTC classes enrolled 14,382 students in 2004-5.

JROTC enrollment in LA County High Schools has grown by 40% over the last five years from 10,248 in 1999-2000 to 14,382 in 2004-5.

Almost 3/4 (73%) of LA County High Schools that offer JROTC classes. DO NOT offer enough college preparatory courses for all students to take a college preparatory curriculum.

Click here to see the full sized chart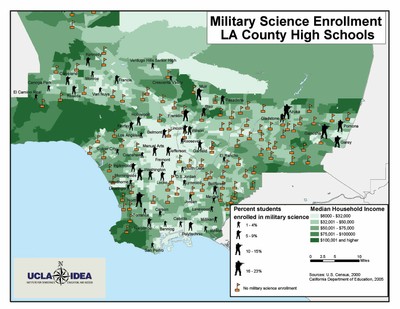 Click here to see the full sized map
Click here to download this document as a PDF in English (1 MB, 1 Page)
Click here to download this document as a PDF in Spanish (1 MB, 1 Page)
*Please note that the chart below is not included in the PDF's above
LA COUNTY HIGH SCHOOLS JROTC ENROLLMENT
| | | | | | |
| --- | --- | --- | --- | --- | --- |
| District | School | # of JROTC Classes | JROTC enrollment | Total School Enrollment | % Students in JROTC |
| ABC Unified | Artesia High | 0 | 0 | 1820 | 0% |
| ABC Unified | Cerritos High | 0 | 0 | 2320 | 0% |
| ABC Unified | Gahr (Richard) High | 0 | 0 | 1934 | 0% |
| ABC Unified | Whitney (Gretchen) High | 0 | 0 | 1025 | 0% |
| Acton-Agua Dulce Unified | Vasquez High | 0 | 0 | 588 | 0% |
| Alhambra Unified | Alhambra High | 0 | 0 | 3277 | 0% |
| Alhambra Unified | Mark Keppel High | 0 | 0 | 2353 | 0% |
| Alhambra Unified | San Gabriel High | 0 | 0 | 2672 | 0% |
| Antelope Valley Union High | Antelope Valley High | 10 | 160 | 2843 | 6% |
| Antelope Valley Union High | Desert Pathways | 0 | 0 | 53 | 0% |
| Antelope Valley Union High | Desert Sands Charter | 0 | 0 | 1163 | 0% |
| Antelope Valley Union High | Highland High | 5 | 150 | 3597 | 4% |
| Antelope Valley Union High | Lancaster High | 11 | 401 | 3478 | 12% |
| Antelope Valley Union High | Littlerock High | 9 | 119 | 2550 | 5% |
| Antelope Valley Union High | Palmdale High | 0 | 0 | 3489 | 0% |
| Antelope Valley Union High | Quartz Hill High | 0 | 0 | 3379 | 0% |
| Arcadia Unified | Arcadia High | 0 | 0 | 3700 | 0% |
| Azusa Unified | Azusa High | 10 | 296 | 1549 | 19% |
| Azusa Unified | Gladstone High | 10 | 132 | 1603 | 8% |
| Baldwin Park Unified | Baldwin Park High | 0 | 0 | 2362 | 0% |
| Baldwin Park Unified | Opportunities for Learning - Baldwin Park | 0 | 0 | 1715 | 0% |
| Baldwin Park Unified | Sierra Vista High | 0 | 0 | 2126 | 0% |
| Bassett Unified | Bassett Senior High | 0 | 0 | 1453 | 0% |
| Bellflower Unified | Bellflower High | 10 | 272 | 3293 | 8% |
| Bellflower Unified | Mayfair High | 5 | 122 | 3543 | 3% |
| Beverly Hills Unified | Beverly Hills High | 0 | 0 | 2205 | 0% |
| Bonita Unified | Bonita High | 0 | 0 | 1854 | 0% |
| Bonita Unified | San Dimas High | 0 | 0 | 1497 | 0% |
| Burbank Unified | Burbank High | 0 | 0 | 2521 | 0% |
| Burbank Unified | Burroughs High | 0 | 0 | 2480 | 0% |
| Centinela Valley Union High | Hawthorne High | 10 | 100 | 2903 | 3% |
| Centinela Valley Union High | Lawndale High | 0 | 0 | 1375 | 0% |
| Centinela Valley Union High | Leuzinger High | 10 | 144 | 3278 | 4% |
| Centinela Valley Union High | Media Art Academy at Centinela | 0 | 0 | 326 | 0% |
| Charter Oak Unified | Charter Oak High | 0 | 0 | 2219 | 0% |
| Claremont Unified | Claremont High | 0 | 0 | 2322 | 0% |
| Compton Unified | Centennial High | 0 | 0 | 1297 | 0% |
| Compton Unified | Compton High | 0 | 0 | 2224 | 0% |
| Compton Unified | Dominguez High | 0 | 0 | 2556 | 0% |
| Compton Unified | Marshall (Thurgood) | 0 | 0 | 156 | 0% |
| Covina-Valley Unified | Covina High | 0 | 0 | 1508 | 0% |
| Covina-Valley Unified | Northview High | 0 | 0 | 1446 | 0% |
| Covina-Valley Unified | South Hills High | 0 | 0 | 2006 | 0% |
| Culver City Unified | Culver City Senior High | 5 | 79 | 2101 | 4% |
| Downey Unified | Downey High | 0 | 0 | 3769 | 0% |
| Downey Unified | Warren High | 0 | 0 | 3435 | 0% |
| Duarte Unified | Duarte High | 0 | 0 | 1177 | 0% |
| El Monte Union High | Arroyo High | 0 | 0 | 2343 | 0% |
| El Monte Union High | El Monte High | 0 | 0 | 2109 | 0% |
| El Monte Union High | Mountain View High | 0 | 0 | 1915 | 0% |
| El Monte Union High | Rosemead High | 0 | 0 | 2020 | 0% |
| El Monte Union High | South El Monte High | 0 | 0 | 1447 | 0% |
| El Rancho Unified | El Rancho High | 5 | 81 | 3337 | 2% |
| El Segundo Unified | El Segundo High | 0 | 0 | 1165 | 0% |
| Glendale Unified | Clark (Anderson W.) Magnet High | 0 | 0 | 1073 | 0% |
| Glendale Unified | Crescenta Valley Senior High | 11 | 101 | 2916 | 3% |
| Glendale Unified | Glendale Senior High | 0 | 0 | 3239 | 0% |
| Glendale Unified | Hoover (Herbert) Senior High | 0 | 0 | 2568 | 0% |
| Glendora Unified | Glendora High | 0 | 0 | 2707 | 0% |
| Gorman Elementary | Gorman Learning Center | 0 | 0 | 1926 | 0% |
| Gorman Elementary | Lifeline Education Charter | 0 | 0 | 293 | 0% |
| Hacienda la Puente Unified | La Puente High | 0 | 0 | 1872 | 0% |
| Hacienda la Puente Unified | Los Altos High | 0 | 0 | 2000 | 0% |
| Hacienda la Puente Unified | Opportunities for Learning-Hacienda La Puente | 0 | 0 | 1409 | 0% |
| Hacienda la Puente Unified | Wilson (Glen A.) High | 0 | 0 | 1949 | 0% |
| Hacienda la Puente Unified | Workman (William) High | 0 | 0 | 1422 | 0% |
| Inglewood Unified | City Honors High | 0 | 0 | 196 | 0% |
| Inglewood Unified | Inglewood High | 10 | 179 | 2118 | 8% |
| Inglewood Unified | Morningside High | 5 | 164 | 1499 | 11% |
| La Canada Unified | La Canada High | 0 | 0 | 2276 | 0% |
| Las Virgenes Unified | Agoura High | 0 | 0 | 2203 | 0% |
| Las Virgenes Unified | Calabasas High | 0 | 0 | 2018 | 0% |
| Lawndale Elementary | Environmental Charter High | 0 | 0 | 298 | 0% |
| Lennox Elementary | Animo Leadership High | 0 | 0 | 516 | 0% |
| Long Beach Unified | Avalon (K-12) | 0 | 0 | 740 | 0% |
| Long Beach Unified | Cabrillo (Juan Rodriguez) High | 10 | 147 | 3523 | 4% |
| Long Beach Unified | California Academy of Mathematics & Science | 0 | 0 | 616 | 0% |
| Long Beach Unified | Jordan High | 12 | 168 | 4383 | 4% |
| Long Beach Unified | Lakewood High | 10 | 179 | 4314 | 4% |
| Long Beach Unified | Millikan Senior High | 4 | 54 | 3942 | 1% |
| Long Beach Unified | Pacific Learning Center Charter | 0 | 0 | 87 | 0% |
| Long Beach Unified | Polytechnic High | 16 | 344 | 4776 | 7% |
| Long Beach Unified | Wilson High | 12 | 198 | 4574 | 4% |
| Los Angeles County Office of Education | International Polytechnic High | 0 | 0 | 469 | 0% |
| Los Angeles County Office of Education | Soledad Enrichment Action (Charter) | 0 | 0 | 1066 | 0% |
| Los Angeles Unified | Banning (Phineas) Senior High | 11 | 134 | 3468 | 4% |
| Los Angeles Unified | Bell Senior High | 0 | 0 | 4914 | 0% |
| Los Angeles Unified | Belmont Senior High | 9 | 270 | 5213 | 5% |
| Los Angeles Unified | Birmingham Senior High | 0 | 0 | 3813 | 0% |
| Los Angeles Unified | Bravo (Francisco) Medical Magnet High | 0 | 0 | 1721 | 0% |
| Los Angeles Unified | Canoga Park Senior High | 10 | 81 | 2414 | 3% |
| Los Angeles Unified | Carson Senior High | 10 | 136 | 3662 | 4% |
| Los Angeles Unified | Chatsworth Senior High | 0 | 0 | 3099 | 0% |
| Los Angeles Unified | Cleveland (Grover) High | 12 | 205 | 3754 | 5% |
| Los Angeles Unified | Crenshaw Senior High | 10 | 108 | 3142 | 3% |
| Los Angeles Unified | Dorsey (Susan Miller) Senior High | 0 | 0 | 2120 | 0% |
| Los Angeles Unified | Downtown Business High | 0 | 0 | 1056 | 0% |
| Los Angeles Unified | Eagle Rock Junior-Senior High | 0 | 0 | 3032 | 0% |
| Los Angeles Unified | El Camino Real Senior High | 10 | 147 | 4033 | 4% |
| Los Angeles Unified | Elizabeth Learning Center | 0 | 0 | 2610 | 0% |
| Los Angeles Unified | Fairfax Senior High | 10 | 166 | 3131 | 5% |
| Los Angeles Unified | Foshay Learning Center (K-12) | 0 | 0 | 3503 | 0% |
| Los Angeles Unified | Francis (John H.) Polytechnic | 8 | 234 | 4541 | 5% |
| Los Angeles Unified | Franklin (Benjamin) Senior High | 10 | 390 | 3431 | 11% |
| Los Angeles Unified | Fremont (John C.) Senior High | 7 | 144 | 5025 | 3% |
| Los Angeles Unified | Gardena Senior High | 0 | 0 | 3500 | 0% |
| Los Angeles Unified | Garfield (James A.) Senior High | 14 | 252 | 5005 | 5% |
| Los Angeles Unified | Granada Hills Charter High | 0 | 0 | 3787 | 0% |
| Los Angeles Unified | Grant (Ulysses S.) Senior High | 0 | 0 | 3201 | 0% |
| Los Angeles Unified | Hamilton (Alexander) Senior High | 0 | 0 | 3270 | 0% |
| Los Angeles Unified | Hollywood Senior High | 17 | 275 | 3182 | 9% |
| Los Angeles Unified | Huntington Park Senior High | 0 | 0 | 4571 | 0% |
| Los Angeles Unified | Jefferson (Thomas) Senior High | 17 | 246 | 3815 | 6% |
| Los Angeles Unified | Jordan (David Starr) Senior High | 4 | 110 | 2684 | 4% |
| Los Angeles Unified | Kennedy (John F.) High | 10 | 180 | 3372 | 5% |
| Los Angeles Unified | King/Drew Medical Magnet High | 0 | 0 | 1668 | 0% |
| Los Angeles Unified | Lincoln (Abraham) Senior High | 10 | 150 | 2995 | 5% |
| Los Angeles Unified | Locke (Alain Leroy) Senior High | 14 | 255 | 3410 | 7% |
| Los Angeles Unified | Los Angeles Center for Enriched Studies | 0 | 0 | 1626 | 0% |
| Los Angeles Unified | Los Angeles Senior High | 15 | 210 | 4953 | 4% |
| Los Angeles Unified | Manual Arts Senior High | 18 | 247 | 4148 | 6% |
| Los Angeles Unified | Marshall (John) Senior High | 0 | 0 | 4834 | 0% |
| Los Angeles Unified | Middle College High | 0 | 0 | 357 | 0% |
| Los Angeles Unified | Monroe (James) High | 7 | 85 | 4759 | 2% |
| Los Angeles Unified | Narbonne (Nathaniel) Senior High | 10 | 180 | 3601 | 5% |
| Los Angeles Unified | North Hollywood Senior High | 0 | 0 | 4546 | 0% |
| Los Angeles Unified | Palisades Charter High | 0 | 0 | 2635 | 0% |
| Los Angeles Unified | Renaissance Academy Charter High | 0 | 0 | 345 | 0% |
| Los Angeles Unified | Renaissance Arts Academy | 0 | 0 | 190 | 0% |
| Los Angeles Unified | Reseda Senior High | 12 | 146 | 2868 | 5% |
| Los Angeles Unified | Roosevelt (Theodore) Senior High | 6 | 91 | 5032 | 2% |
| Los Angeles Unified | San Fernando Senior High | 0 | 0 | 4616 | 0% |
| Los Angeles Unified | San Pedro Senior High | 5 | 153 | 3576 | 4% |
| Los Angeles Unified | Sherman Oaks Center for Enriched Studies | 0 | 0 | 1787 | 0% |
| Los Angeles Unified | South Gate Senior High | 13 | 118 | 5116 | 2% |
| Los Angeles Unified | Sylmar Senior High | 0 | 0 | 3685 | 0% |
| Los Angeles Unified | Taft (William Howard) Senior High | 0 | 0 | 3597 | 0% |
| Los Angeles Unified | Thirty-Second St. USC Performing Arts | 0 | 0 | 1002 | 0% |
| Los Angeles Unified | University Senior High | 0 | 0 | 2419 | 0% |
| Los Angeles Unified | Van Nuys Senior High | 10 | 83 | 3640 | 2% |
| Los Angeles Unified | Venice Senior High | 0 | 0 | 3209 | 0% |
| Los Angeles Unified | Verdugo Hills Senior High | 4 | 79 | 2405 | 3% |
| Los Angeles Unified | View Park Preparatory Accelerated Charter Middle | 0 | 0 | 203 | 0% |
| Los Angeles Unified | Washington (George) Preparatory High | 7 | 197 | 2922 | 7% |
| Los Angeles Unified | Westchester Senior High | 0 | 0 | 2726 | 0% |
| Los Angeles Unified | Wilson (Woodrow) Senior High | 7 | 151 | 3037 | 5% |
| Lynwood Unified | Lynwood High | 5 | 218 | 4905 | 4% |
| Manhattan Beach Unified | Mira Costa High | 0 | 0 | 2438 | 0% |
| Monrovia Unified | Monrovia High | 0 | 0 | 1787 | 0% |
| Monrovia Unified | Mountain Park | 0 | 0 | 85 | 0% |
| Montebello Unified | Bell Gardens High | 0 | 0 | 3365 | 0% |
| Montebello Unified | Montebello High | 0 | 0 | 3377 | 0% |
| Montebello Unified | Schurr High | 0 | 0 | 3318 | 0% |
| Norwalk-La Mirada Unified | Glenn (John H.) High | 0 | 0 | 2092 | 0% |
| Norwalk-La Mirada Unified | La Mirada High | 0 | 0 | 2351 | 0% |
| Norwalk-La Mirada Unified | Norwalk High | 0 | 0 | 2314 | 0% |
| Palos Verdes Peninsula Unified | Palos Verdes High | 0 | 0 | 1299 | 0% |
| Palos Verdes Peninsula Unified | Palos Verdes Peninsula High | 0 | 0 | 2600 | 0% |
| Paramount Unified | Paramount High | 0 | 0 | 4079 | 0% |
| Paramount Unified | Paramount High School Academy | 6 | 90 | 438 | 21% |
| Pasadena Unified | Blair High | 5 | 83 | 1106 | 8% |
| Pasadena Unified | Marshall Fundamental | 0 | 0 | 1787 | 0% |
| Pasadena Unified | Muir High | 10 | 125 | 1292 | 10% |
| Pasadena Unified | Pasadena High | 8 | 209 | 2784 | 8% |
| Pomona Unified | Diamond Ranch High | 5 | 70 | 1899 | 4% |
| Pomona Unified | Ganesha Senior High | 10 | 387 | 1699 | 23% |
| Pomona Unified | Garey Senior High | 10 | 286 | 2306 | 12% |
| Pomona Unified | Pomona Senior High | 11 | 244 | 1831 | 13% |
| Redondo Beach Unified | Redondo High | 0 | 0 | 2295 | 0% |
| Rowland Unified | Nogales High | 0 | 0 | 2498 | 0% |
| Rowland Unified | Rowland (John A.) High | 0 | 0 | 2457 | 0% |
| San Gabriel Unified | Gabrielino High | 0 | 0 | 1743 | 0% |
| San Marino Unified | San Marino High | 0 | 0 | 1221 | 0% |
| Santa Monica-Malibu Unified | Malibu High | 0 | 0 | 1322 | 0% |
| Santa Monica-Malibu Unified | Santa Monica High | 0 | 0 | 3369 | 0% |
| South Pasadena Unified | South Pasadena Senior High | 0 | 0 | 1516 | 0% |
| Temple City Unified | Temple City High | 0 | 0 | 1956 | 0% |
| Torrance Unified | North High | 16 | 359 | 2204 | 16% |
| Torrance Unified | South High | 0 | 0 | 2090 | 0% |
| Torrance Unified | Torrance High | 9 | 42 | 2218 | 2% |
| Torrance Unified | West High | 0 | 0 | 2164 | 0% |
| Walnut Valley Unified | Diamond Bar High | 0 | 0 | 3182 | 0% |
| Walnut Valley Unified | Walnut High | 0 | 0 | 2718 | 0% |
| West Covina Unified | West Covina High | 0 | 0 | 2759 | 0% |
| Whittier Union High | California High | 0 | 0 | 2814 | 0% |
| Whittier Union High | La Serna High | 0 | 0 | 2238 | 0% |
| Whittier Union High | Pioneer High | 0 | 0 | 1810 | 0% |
| Whittier Union High | Santa Fe High | 0 | 0 | 2761 | 0% |
| Whittier Union High | Whittier High | 0 | 0 | 2337 | 0% |
| William S Hart Union High | Canyon High | 0 | 0 | 2754 | 0% |
| William S Hart Union High | Hart (William S.) Senior High | 0 | 0 | 2869 | 0% |
| William S Hart Union High | Opportunities for Learning-Santa Clarita | 0 | 0 | 1355 | 0% |
| William S Hart Union High | Saugus High | 0 | 0 | 2712 | 0% |
| William S Hart Union High | Transitional Learning Center Charter | 0 | 0 | 65 | 0% |
| William S Hart Union High | Valencia High | 12 | 187 | 3152 | 6% |
Document Actions