2010 Educational Opportunity Report: Educational Opportunities in Hard Times
The Impact of the Economic Crisis on Public Schools and Working Families
John Rogers, Sophie Fanelli, Rhoda Freelon, David Medina, Melanie Bertrand, Maritza Del Razo
January 2010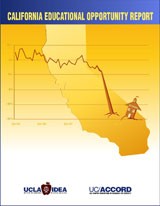 Even before the current recession began, California public schools were ill-equipped to meet the learning and social welfare needs of many students. Today, the conditions, challenges, and comparisons are worse. Much worse. For example, one in four California students lives in poverty and is likely attending a school with reduced funding, larger classes, and fewer instructional materials.
To illuminate the current "real time" effects of the recession on California children and public schools, UCLA's Institute for Democracy, Education, and Access (IDEA) conducted interviews with a representative sample of 87 principals from across the state. The principals speak of conditions that children face today, on Monday morning when the school bell rings, and when they leave school and return to their families.
Some key findings include:
• The recession has created acute new social needs for students.
• California's weak educational and fiscal infrastructure has limited the ability of schools to respond to these new needs.
• Conditions supporting teaching and learning have eroded.
• Many school programs and services previously viewed as essential (such as summer school) have been eliminated or cut back.
• Budget cuts have undermined efforts of schools to sustain improvement and reform.


This report was produced by UCLA IDEA in partnership with UC/ACCORD. We examine the quality and distribution of educational opportunities across California's public schools. A broader set of analyses of educational conditions and outcomes, including reports on each California legislative district and reports on each public high school and middle scool in the state, can be found online at www.edopp.org.
Search our Database: Individual Reports by Middle School, High School, School District, or Legislative District for 2010:
Document Actions